For Further Information:
Media Inquiries-
Peter Aseltine
609-292-4791
Citizen Inquiries-
609-984-5828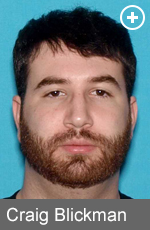 TRENTON –Attorney General Gurbir S. Grewal announced that a sex offender with a prior conviction for sexual assault on a minor was sentenced to prison today for using chat apps, while on parole, to manipulate an underage girl in Wisconsin into sending him sexually explicit images of herself.
Craig Blickman, 30, of Marlton, N.J., was sentenced to nine years in state prison, including more than 7 ½ years of parole ineligibility, by Superior Court Judge Terrence R. Cook in Burlington County. He pleaded guilty on Feb. 14, 2020 to a first-degree charge of manufacturing child sexual abuse material. On July 17, 2020, he entered a superseding guilty plea to first-degree manufacturing child sexual abuse material and third-degree impairing/debauching the morals of a child. Blickman will be required to register under Megan's Law and will be subject to parole supervision for life.
Deputy Attorney General Thomas Huynh prosecuted Blickman and represented the Division of Criminal Justice Financial & Cyber Crimes Bureau at the sentencing hearing.Blickman was charged in an investigation led by officers of the New Jersey State Parole Board, who initially arrested Blickman for a violation of parole. Senior Parole Officer Joseph Riavez was the lead investigator.
In 2012, Blickman pleaded guilty to sexual assault of a minor and impairing or debauching the morals of a minor for sexually assaulting a girl between the ages of 13 and 15. He was sentenced on Jan. 25, 2013 to five years in prison. He was released from prison and placed on parole status in December 2015.
During a routine parole visit to Blickman's residence in November 2018, his parole officer discovered that Blickman had violated his parole conditions by communicating with a minor. As a result, the parole officer seized Blickman's cell phone. A forensic examination of the cell phone revealed that, over an extended period of time in 2017, Blickman used chat apps to engage in sexually explicit conversations with a 15-year-old girl in Wisconsin. During these conversations, Blickman repeatedly pressured the girl into sending him sexually explicit images of herself. Police officers in Wisconsin assisted in the investigation. The specific police department is not being named to protect the victim.
"While on parole for sexually assaulting a minor, Blickman resumed his predatory behavior, stalking a vulnerable victim on social media and manipulating her into sending him sexually explicit images of herself," said Attorney General Grewal. "I commend the State Parole Board for diligently monitoring this convicted sex offender and exposing his new crime. This lengthy prison sentence reflects our resolve to remove dangerous predators like Blickman from the internet and our communities."
"This case serves as a stark reminder of the dangers children face from online predators, who use social media, chat apps, and gaming platforms to find victims they can sexually exploit," said Director Veronica Allende of the Division of Criminal Justice. "We urge parents to talk to their children about this threat and alert law enforcement about any suspicious persons targeting children on the internet."
"I am very proud of our ongoing partnerships with the Attorney General's Office, Division of Criminal Justice, and the critical relationships we have with our county and local law enforcement agencies," said New Jersey State Parole Board Chairman Samuel J. Plumeri, Jr. "This collaborative operation was one of the many indispensable efforts to help find and prosecute those who would prey upon our children. As technological advances further embolden criminals to contact children through a variety of social media platforms, we must work diligently to keep pace and our Digital Forensic Officers are at the forefront of these efforts."
Deputy Attorney General Huynh prosecuted the case under the supervision of Deputy Attorney General Jillian Carpenter, Chief of the Division of Criminal Justice Financial & Cyber Crimes Bureau, former Bureau Chief Julia S. Glass, and DCJ Deputy Director Christine Hoffman, who currently is Acting Gloucester County Prosecutor. Attorney General Grewal commended Senior Parole Office Joseph Riavez and the other officers who investigated for the State Parole Board.He also thanked the police officers in Wisconsin who assisted in the investigation.
Attorney General Grewal and Director Allende urged anyone with information about the distribution of child sexual abuse materials on the internet – or about suspected improper contact by unknown persons communicating with children via the internet or possible exploitation or sexual abuse of children – to contact the New Jersey Internet Crimes Against Children Task Force Tipline at 888-648-6007.
###