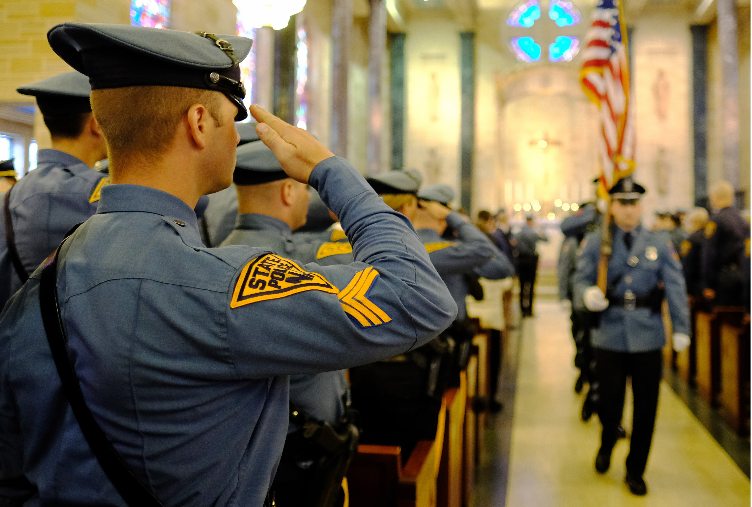 Throughout 2018, Attorney General Grewal sought to highlight the good work of New Jersey's law enforcement community. At a time when some public voices feel comfortable directing hostility towards the police, Attorney General Grewal has worked to raise awareness about the commitment and integrity of our uniformed officers. He has made it a particular priority to meet with line officers across the state to thank them for their service.
Honoring those who made the ultimate sacrifice
There is no greater sacrifice than the one made by those who die in the line of duty protecting their fellow citizens. And there is no greater obligation than to honor those who made that ultimate sacrifice. In 2018, Attorney General Grewal traveled the state and the region to recognize and remember our fallen officers, including by paying his respects at the National Law Enforcement Officers Memorial in Washington, D.C., and participating in the annual Police Unity Tour at Ground Zero in New York City, the annual Survivor's Day in Seaside Heights, and the State Police Survivor's Triangle Memorial Service in West Trenton. In November 2018, he joined the families of fallen State Troopers Anthony Rasp and Sean Cullen to dedicate portions of New Jersey highways in their honor.
Thanking our brothers and sisters in blue
Attorney General Grewal has sought out opportunities to thank officers for their service – and to welcome new officers entering the profession. In July 2018, he joined Superintendent Patrick Callahan and Lieutenant Governor Sheila Oliver to swear in the 158th Class of the New Jersey State Police. He also participated in police academy graduation ceremonies across the state and joined the July 2018 State Police Youth Trooper Week to help recruit the next generation of law enforcement leaders in New Jersey.