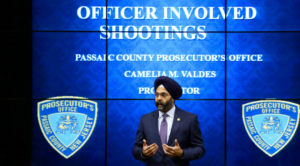 Recent surveys show a steady decline in Americans' confidence in public institutions. This declining confidence affects not just our political system, but also the criminal justice system. Over the past year, the Attorney General's Office has not only worked to root out the corruption and misconduct that breeds distrust in government, but has also tackled systemic issues designed to strengthen confidence in New Jersey's system of justice.
Rooting Out Corruption and Misconduct
Prioritizing public integrity and accountability. In September 2018, Attorney General Grewal announced the creation of a new unit to combat corruption and strengthen confidence in government institutions. To lead the effort, Attorney General Grewal recruited Thomas Eicher, a longtime federal prosecutor who has led complex corruption investigations and obtained convictions against numerous public officials, including multiple Members of Congress. The new unit – the Office of Public Integrity & Accountability (OPIA) – includes both detectives and prosecutors and reports directly to the Attorney General.
Addressing Public Concerns with Public Institutions
Ensuring the integrity of criminal convictions. In spring 2018, the Passaic County Prosecutor's Office announced that it would not seek the retrial of two men who had been convicted of murder in 1996 but whose convictions were vacated in 2017 following the discovery of exculpatory evidence. In response, Attorney General Grewal convened a panel, led by former New Jersey Supreme Court Justice Virginia Long and former U.S. Attorney Paul Fishman, to provide recommendations to the Attorney General's Office about establishing two new statewide units: a "cold case unit," which would attempt to solve old crimes using new technology, and a "conviction review unit," which would review claims of actual innocence by those convicted of serious crimes. Attorney General Grewal expects to receive the recommendations and take appropriate action in 2019.
Supporting victims of sexual assault. In October 2018, Governor Murphy asked the Attorney General's Office to study whether the state could take additional steps to support victims of sexual assault. The following month, Attorney General Grewal issued AG Directive 2018-5, which created new requirements and enhanced oversight for sexual assault investigations and prosecutions. In addition, Attorney General Grewal issued the Attorney General Standards for Providing Services to Victims of Sexual Assault, Third Edition, which established 14 protocols that prioritize the needs and concerns of victims. These steps marked the culmination of a multi-year process to improve the handling of sexual assault cases—a collaborative effort that involved prosecutors, healthcare professionals, services providers, and victim advocates.
Promoting the proper use of prosecutorial discretion. In summer 2018, Jersey City unilaterally decided that its municipal prosecutors would no longer prosecute individuals for marijuana possession offenses, creating public confusion about who, if anyone, had the authority to "decriminalize" a particular offense. In response, Attorney General Grewal convened a working group – consisting of county and municipal prosecutors, police chiefs, civil rights leaders, and community advocates – to study the topic and issue guidance. Based on this effort, in August 2018, Attorney General Grewal issued statewide guidance making clear that municipal prosecutors could not adopt policies that categorically decriminalized marijuana, but could exercise appropriate prosecutorial discretion on a case-by-case basis.
Improving data collection on police use of force. In November 2018, a StarLedger investigation revealed gaps in how New Jersey collects, monitors, and publishes data about the use of force by law enforcement officers. The following month, Attorney General Grewal partnered with the leaders of the state's police unions and major law enforcement organizations to announce a joint effort to overhaul the state's collection of use-of-force data, with a goal of completing the project in 2019.