Under state law, the Attorney General has the power to hold accountable those who threaten the safety and well-being of New Jersey's residents. One of the Attorney General's tools for protecting the public is "affirmative litigation" – an umbrella term for civil lawsuits against individuals and companies that violate the law in ways that affect our communities. This year, the Attorney General's Office also used its affirmative litigation powers to hold the federal government accountable when it took actions that violate the law and harm New Jersey residents.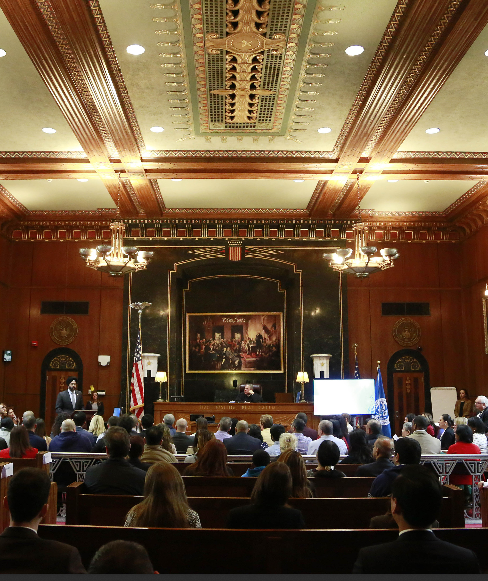 Protecting New Jersey's Environment
Holding environmental polluters accountable.

Announcing a "new day" for environmental enforcement in New Jersey, in August 2018, Attorney General Grewal filed six lawsuits across the state to take polluters to task for the harm they caused. The actions included three cases involving so-called "natural resources damages" (NRD), the first such cases in a decade. Building on that progress, in December 2018, Attorney General Grewal announced the state was filing eight more lawsuits, this time focusing on "environmental justice" by targeting polluters in low-income and minority communities. He also created a new litigation unit – the "Environmental Enforcement and Environmental Justice Section" – that repurposed existing resources and hired new attorneys to bring enforcement actions and promote environmental justice across the state.

Protecting New Jersey's coastline from offshore drilling.

In 2017, Interior Secretary Ryan Zinke announced plans to allow oil drilling along the Atlantic Coast, even though the federal government had previously recognized that such drilling would threaten both the environment and the coastal economy. Attorney General Grewal has challenged these plans every step of the way, most recently suing to block seismic testing of potential drilling locations. Attorney General Grewal also successfully sued the Department of the Interior for access to documents explaining why Florida received an exemption from this offshore drilling expansion but New Jersey did not.

Requiring Washington to protect our environment and health.

This year, the Environmental Protection Agency attempted to roll back key environmental
rules on climate change, clean air, and clean water, to name a few. Attorney General Grewal repeatedly—and successfully—fought to keep these national environmental protections in place. In 2018, Attorney General challenged EPA's new rules on climate change, vehicle emissions, super-polluting trucks, chemical safety, clean water, and more. He also took the federal government to court for its role in approving the PennEast pipeline.
Fighting for New Jersey's Consumers
Holding financial institutions responsible for wrongdoing.

In December 2018, Attorney General Grewal entered into historic, multistate settlements with two major financial institutions: a $575 million settlement with Wells Fargo (of which New Jersey received $17 million) regarding the company's improper business practices, and a $68 million settlement with UBS AG (of which New Jersey entities will receive $5 million) to resolve the company's role in manipulating LIBOR rates. These settlements demonstrated the commitment of the Attorney General's Office to hold financial institutions accountable when they put their bottom line over their customers in New Jersey.

Creating a "state-level CFPB.".

Over the past year, the federal government has worked to dismantle the Consumer Financial Protection Bureau (CFPB), a federal agency created to protect consumers from financial fraudsters. In response, Attorney General Grewal appointed Paul Rodríguez, former Acting Counsel to New York City Mayor Bill de Blasio, as Director of the Division of Consumer Affairs. Under Director Rodríguez, the Division is working to expand protections for consumers and fill the void created by rollbacks at the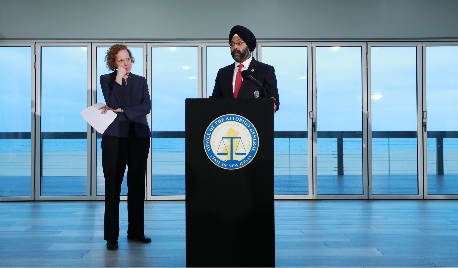 CFPB. The Division is partnering with the Division of Law to more aggressively pursue financial misconduct in court and is using its own rulemaking authority to protect consumers when the federal government refuses to do so. In September, for example, the Division proposed new commonsense rules to require all investment professionals to place their clients' interests above their own when making recommendations.

Protecting individuals' data privacy online.

In May 2018, Attorney General Grewal announced the creation of a new enforcement unit to protect the data privacy of New Jersey residents. Among other initiatives, the new unit is assuming responsibility for an investigation of Facebook, which the Attorney General's Office announced in March 2018 following the revelation that the personal data of over 1.5 million Facebook users in New Jersey had been improperly transferred by an app developer to a third party. And, in September 2018, Attorney General Grewal announced a historic settlement to resolve a multistate data-breach investigation involving Uber, with the ride-sharing company agreeing to pay a total of $148 million (of which New Jersey received $3.75 million).

Advocating for net neutrality.

In 2017—shortly before Attorney General Grewal took office—the Federal Communications Commission repealed its "net neutrality" rules, which prevented providers from slowing or blocking access to certain websites or charging companies higher fees for faster access. In February 2018, Attorney General Grewal announced New Jersey would join a lawsuit seeking to block the FCC's rollback of net neutrality.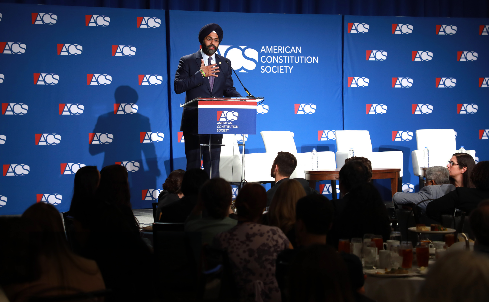 Standing up for the Civil Rights of New Jersey Residents
Defending against Washington's attacks on our diverse communities.

After the federal government sought to undermine longstanding laws protecting our immigrants and other diverse communities, Attorney General Grewal filed lawsuits to protect New Jerseyans' fundamental rights. In 2018, among other civil rights cases, Attorney General Grewal challenged the family separation policy, fought to defend women's rights to access contraceptive coverage and other reproductive care, and opposed federal efforts to restrict asylum and to add an unnecessary and harmful question to the 2020 Census.

Fighting for New Jersey's 17,000 Dreamers.

In Spring 2018, the state of Texas sued the federal government, demanding an immediate end to Deferred Action for Childhood Arrivals (DACA), which has provided legal protections to more than 700,000 Dreamers, including more than 17,000 in New Jersey. When the federal government refused to defend against Texas's lawsuit, New Jersey took the lead and jumped into the fray—and won a crucial legal victory that blocked the immediate termination of DACA.

Ensuring the rights of all New Jerseyans.

With the federal government abandoning its responsibility to enforce federal civil rights laws, the state of New Jersey has stepped up its efforts to protect populations that have historically faced bias and discrimination. In September 2018, Attorney General Grewal appointed Rachel Wainer Apter, a former ACLU litigator and law clerk to Justice Ruth Bader Ginsburg, as the Director of the Division on Civil Rights. Under Director Wainer Apter, the Division is overhauling its efforts to stand up for individuals facing discrimination on the basis of race, gender, nationality, sexual orientation, disability, and other protected traits.
Advocating for New Jersey's Families
Fighting for homeowners' property tax deductions.

In 2017, President Trump signed a law eliminating homeowners' ability to deduct more than $10,000 in state and local taxes (SALT) on their federal income tax returns—a change in longstanding policy that disproportionately hurts New Jersey residents. Attorney General Grewal has vigorously challenged this policy, suing the federal government over the constitutionality of the "SALT cap" and defending the legality of New Jersey laws designed to protect residents from the effects of this new policy.

Defending the health care of our residents.

As the federal government has worked to undermine the Affordable Care Act (ACA), Attorney General Grewal has fought back, joining lawsuits and filing public comments to protect New Jersey residents' rights under the ACA, including the ban on discrimination due to pre-existing health conditions.