For Further Information:
Media Inquiries-
Lee Moore
609-292-4791
Larry Hajna (DEP),
609-292-2994
Citizen Inquiries-
609-984-5828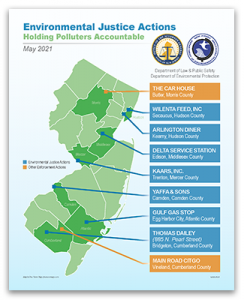 TRENTON – Attorney General Gurbir S. Grewal and Department of Environmental Protection (DEP) Acting Commissioner Shawn M. LaTourette announced today the filing of nine new environmental enforcement actions across the State, including seven to hold polluters accountable for contamination in environmentally overburdened communities.
The seven lawsuits focused on overburdened communities address pollution in Camden, Trenton, Kearny, Secaucus, Edison, Bridgeton and Egg Harbor City. The two additional cases are based in Butler and Vineland.
Collectively, the Complaints involve a broad range of alleged environmental abuses by the defendant property owners and other responsible parties, including:
Illegal dumping that allowed massive quantities of contaminated soil, construction and demolition debris — along with contaminated old tires and other refuse — to accumulate in near residences;
The release of gasoline and other toxic chemicals from underground storage tanks, contaminating soil and groundwater; and
Releases of chemical and food waste contaminants into stormwater drains and, ultimately, surface bodies of water.
These cases represent yet another component of the Murphy Administration's comprehensive effort to address harms disproportionately affecting the health and well-being of the state's most vulnerable populations.
Including the lawsuits announced today, Attorney General Grewal and the Department of Environmental Protection have filed 39 environmental justice cases since 2018. The lawsuits have yielded nearly $20 million in judgments.  More important, many of these cases also have resulted in court orders requiring responsible parties perform cleanup activities to protect human health and the environment. These orders also achieve cost savings to the taxpayers by holding polluters and other responsible parties financially accountable.
"From Day One of the Murphy Administration, we've been committed to ensuring that all New Jersey residents can enjoy clean air, clean drinking water and a safe environment," said Attorney General Grewal.  "That's environmental justice, and everyone deserves it.  The cases we're announcing today are only the latest actions we've taken to deliver on our commitment to environmental justice, and the latest reminder to polluters that they will be held accountable – whether they're illegally dumping waste in our cities or polluting our fields and rivers."
"To further the promise of environmental justice, we must aggressively enforce our laws in communities disproportionately burdened by pollution," said Acting DEP Commissioner Shawn LaTourette. "Enforcement actions like these embody our commitment to protecting vulnerable communities and make clear the consequences for creating or contributing to environmental injustice. My DEP colleagues and I are grateful to Attorney General Grewal and his team for their passion for equity and their partnership in action."
The contaminants at issue in all of today's lawsuits are linked to serious health problems including respiratory distress and certain lung illnesses, cancer, neurological disorders, kidney disease, liver disease and eye damage.
Today's nine Complaints seek a variety of remedies, including clean-up of the contaminated properties, compliance with DEP Administrative Orders and other outstanding DEP requirements, payment of civil penalties, and reimbursement to the State for the cost of site investigation, remediation, monitoring and other related work.
Today's lawsuits include seven cases located in environmental justice communities and two located outside environmental justice communities:
Yaffa & Sons Property, Camden (Environmental Justice)
The State's Complaint alleges that S. Yaffa and Sons, Inc. and its owner, William Yocco, unlawfully imported and stockpiled solid waste — including contaminated soil, construction and demolition debris, and waste tires — at its property in the City of Camden for years before selling the site to Weyhill Realty Holdings in July 2019.  Weyhill Realty Holdings allegedly failed to remove the waste, and continued to allow illegal dumping on site, receiving more construction and demolition debris and comingling it with contaminated soil. In addition, the State's Complaint alleges that a 500-gallon underground fuel storage tank potentially remains on the property, which, because of its potential to leak gasoline, would pose a danger.
The Complaint alleges violations of New Jersey's Solid Waste Management Act and the Underground Storage of Hazardous Substances Act, and seeks to enforce a prior DEP order and collect penalties for non-compliance.
Delta Service Station, Edison (Environmental Justice)
The State's Complaint stems from the operations of a former gas station at 1065 Amboy Avenue – and specifically from issues related to underground tanks used to store gasoline. On multiple occasions over the years, DEP has detected gasoline contamination on the property and confirmed the presence of such harmful chemicals as benzene, methyl tert-butyl ether (MTBE), and xylenes in soil and groundwater. The Complaint alleges violations of the Spill Act, the Water Pollution Control Act, and the Underground Storage of Hazardous Substances Act.
Named defendants in the suit include former property owner James Mezey; Cherokee Equities, LLC; 1065 Amboy Avenue, LLC; ERC7, LLC; 19 Petroleum Distributors, Inc.; G&V Fuel Corporation, Inc., and NJ Petroleum Distributors, Inc. The site currently operates as an auto repair garage and auto body shop, and those business are not defendants.
Thomas Dailey, 885 N. Pearl Street, Bridgeton (Environmental Justice)
The State's Complaint alleges that defendant Thomas Dailey purchased the property at issue in 1992 and subsequently had two underground fuel storage tanks removed without a required tank decommissioning plan and site investigation. In 2015, DEP inspectors found a third underground fuel storage tank still on the property. The Complaint alleges violations of the Underground Storage of Hazardous Substances Act in connection with all three tanks by Dailey and/or 330 Angle Sea LLC, a company which Dailey owns and to which he sold the property in 2017. Among other things, the Complaint seeks to compel the removal of the remaining underground storage tank, the hiring of a Licensed Site Remediation Professional to investigate and remediate any hazardous discharges, payment of a civil penalty, and compensation to DEP for any costs it has or will incur in connection with the property.
Wilenta Feed, Inc., Secaucus (Environmental Justice) 
The State's Complaint against defendant Wilenta Feed, Inc., alleges violation of the State's Water Pollution Control Act. Wilenta operates a food waste recycling business at 46 Henry Street in Secaucus that involves converting food waste — largely bakery products — into animal feed or animal feed ingredients. According to the Complaint, Wilenta has been unlawfully storing its food waste in open-air piles, thereby exposing the waste to stormwater, which enters the sewer system and, ultimately, into such surface water bodies as Penhorn Creek, a tributary of the Hackensack River. In addition to seeking a court order directing Wilenta to halt its open-air storage of food waste, today's lawsuit seeks civil penalties against Wilenta and reimbursement to the State for costs it has incurred, or will incur, to investigate, inspect and monitor the property.
KAARS, Inc., Trenton (Environmental Justice)
The State's lawsuit against Trenton auto recycling facility KAARS, Inc., and its owner Isam Abuhumoud alleges violations of the Water Pollution Control Act, the Solid Waste Management Act, and the Spill Compensation and Control Act.
According to the Complaint, activity at KAARS involves dismantling cars and trucks to salvage certain parts for sale, which among other things yields solvents, greases and such fluids as brake fluid, anti-freeze and motor oil. Under DEP permitting requirements, KAARS must manage its stormwater run-off so that pollutants generated by its operations do not end up in the sewer system serving the property, which carries stormwater to Assunpink Creek and, eventually, to the Delaware River. The State's lawsuit alleges that KAARS' poor management of auto scrap, chemicals and other wastes has resulted in uncontrolled pollutant discharges that threaten water quality in the area, which includes a city park, residences, and an elementary school.
Arlington Diner, Kearny (Environmental Justice)
The State's Complaint against Isaac Moradi centers on a former gas station at 941 Passaic Avenue in Kearny that backs up to an embankment of the Passaic River and that was contaminated with petroleum products including gasoline prior to Moradi's acquisition of the property in 2016. According to the State's Complaint, an investigation of the property in 2007 revealed significant contamination of groundwater and soil, much of it ultimately traced to an out of service, 12,000-gallon underground fuel storage tank. The State's lawsuit alleges violation of the Spill Compensation and Control Act and the common law of public nuisance.
Gulf Gas Stop, Egg Harbor City (Environmental Justice)
The State's Complaint centers on a "gas-and-go" service station property at 501 White Horse Pike in Egg Harbor City, and names property owner Arjun Goyal, of West Deptford, as the sole defendant. Five fuel storage tanks containing unleaded gasoline once existed on the property, and although they have been removed, DEP has found evidence that the tanks leaked into the soil. Groundwater sampling has detected excessive levels of such petroleum-related chemical toxins as benzene, ethyl benzene, xylenes, methyl tertiary butyl ether, tertiary-butyl alcohol, toluene and lead. The Complaint seeks enforcement of, and penalties for non-compliance with, a prior DEP order to remediate the site, among other relief.
The State's Complaint against Avalon-based Sasdelli Oil Company, Inc.; its owner, Terry Sasdelli of Asheville, NC; and corporate entities Vineland 820 Main Road, LLC and Vineland Chestnut Avenue, LLC centers on a contaminated gas station property at 820 N. Main Road in Vineland. According to the Complaint, excessive levels of petroleum-product-related contaminants have been found in soil and groundwater on the property, including benzene, toluene, ethylbenzene, xylenes, lead, methyl tertiary-butyl ether (MTBE) and naphthalene.
The State's Complaint alleges violations of the Spill Compensation and Control Act and Water Pollution Control Act, and also claims each defendant was unjustly enriched through their failure to perform or fund required remediation work on the property. The Complaint seeks a court order directing the defendants to remediate the property, pay civil penalties and reimburse DEP for related costs incurred by the State.
The State's Complaints alleges that The Car House, a Morris County used auto dealership, sold a Nissan 350-Z coup in August 2019 that had been tampered with through removal of the catalytic converters that were part of the vehicle's original emissions control system. The purchaser only learned of the unlawful modification when the car failed an inspection, according to the Complaint.
New Jersey law prohibits the sale of a gasoline-fueled motor vehicle in which an emissions control device installed by the original vehicle manufacturer has been disconnected, detached, deactivated, or in any other way altered or modified from the original design. According to the State's Complaint, tailpipe emissions from such vehicles cause increased levels of harmful pollutants like hydrocarbons, nitrogen oxides (NOx), and carbon monoxide — pollutants known to trigger or aggravate human respiratory diseases.
Today's lawsuit alleges that dealership violated New Jersey's Air Pollution Control Act by selling an unlawfully tampered vehicle, and that it has failed to pay a civil penalty imposed two years ago. The suit seeks payment of that civil penalty, as well as restitution to the buyer of the tampered Nissan.
Today's enforcement actions are being handled by the Environmental Enforcement and Environmental Justice (EEEJ) Section within the Division of Law's Affirmative Civil Enforcement Practice Group, including Assistant Attorney General Aaron Kleinbaum, Section Chief Gary Wolf, Assistant Section Chief Paul Stofa, and Deputy Attorneys General Bethanne Prugh, Willis Doerr, Robert Kinney, Thomas Lihan, Daniel Resler, Matthew Novak, Andrew Verdone, Mark Fisher, Matthew Knoblauch and Pragya Singh.
Photographs of the sites involved with today's environmental justice announcement are available at: https://flic.kr/s/aHsmVCFTuL
###