We are committed to combating the crime of Human Trafficking through education, collaboration and prosecution.
The Task Force's goals are to:
Train and assist law enforcement in methods of identifying victims and signs of trafficking in order to disrupt and interdict this activity
Coordinate statewide efforts in the identification and provision of services to victims of human trafficking
Increase the successful interdiction and prosecution of trafficking of human persons
A victim of trafficking may look like many of the people you see every day. Ask the right questions and look for clues. You are vital because you may be the only outsider with the opportunity to speak to a victim.
Fourth Annual Sgt. Noelle Holl Award
Sgt. Noelle Holl left behind a legacy of putting victims first and relentlessly pursuing traffickers.  The Task Force honors that legacy every year by awarding a deserving law enforcement officer.  This year, we are honored to announce that HSI Special Agent Ronald Conyers is the recipient (see attached).  Please join us in congratulating Agent Conyers during the Human Trafficking Awareness Event on January 28, 2021 at 12:00 p.m.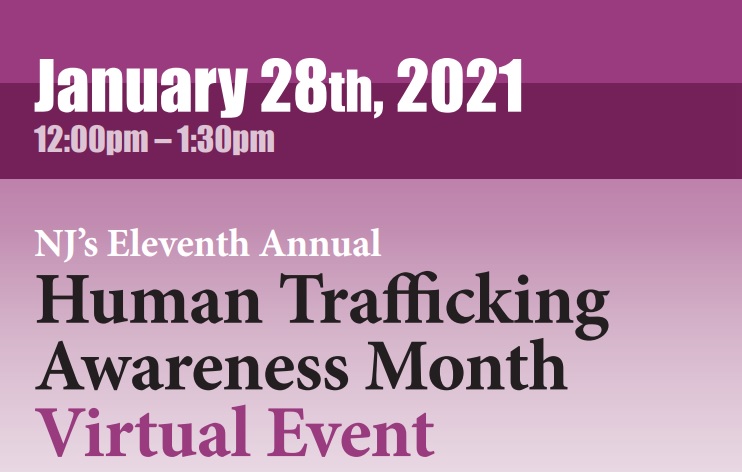 Annmarie Taggart
Deputy Attorney General
Chair – NJ Human Trafficking Task Force
Division of Criminal Justice
609-984-6500
Lisa Rastelli
Deputy Attorney General Chair – NJ HT Liaisons
Division of Criminal Justice
856-414-8580
NJ Human Trafficking Hotline 
855.END.NJ.HT (855-363-6548)
If you believe you have identified a trafficking victim call 24/7 toll-free 855.END.NJ.HT (855-363-6548).
It is important to remember that holding a victim in jail, even for a short time, will more than likely deter her/him from cooperating with the investigation. Also, trafficking victims, in particular, will have many needs, such as; shelter, food, clothing, and medical attention.
Fax number: 609-633-7798
Human Trafficking Terminology and Statutes
Coercion
Threats or perceived threats of serious harm to or physical constraints against any person; a scheme intended to cause a person to believe that failure to perform will result in serious harm to or physical restraint against any person.
Continued Presence
Allows victims who lack legal status and are assisting law enforcement as potential witnesses to remain in the country for the course of criminal investigation. Through continued presence, victims can receive temporary immigration relief.
Debt Bondage
Status or condition of a debtor arising from a pledge by the debtor of his or her personal services or of those of a person under his or her control as a security for debt, if the value of those services as reasonably assessed is not applied toward the liquidation of the debt or the length and nature of those services are not respectively limited and defined.
Trafficking victims whom have continued presence are eligible to apply for an Employment Authorization Document (EAD) that proves that the victim is legally employable in the United States. One type of temporary relieve a victim can receive offer issued continued presence.
Federal Law Enforcement Authorization (LEA)
Refers to any federal law enforcement agency that has the responsibility and authority for the detection, investigation, or prosecution of severe forms of trafficking in persons. Qualified LEAs include, but are not limited to, the offices of the Department of Justice, United States Attorney, Federal Bureau of Investigation (FBI), United States Citizenship and Immigration Services (USCIS), United States Immigration and Customs Enforcement (USICE), United States Marshal Service, and the Diplomatic Security Service of the Department of State. Certification of a person as a "trafficking victim" by a LEA is required by the TVPA before a trafficking victim can apply for the T Visa.
Human Smuggling
Helping someone to illegally cross country borders, often without identification or papers, for financial or material benefit. Smuggling ends with the arrival of the migrants at their destination, whereas trafficking involves the ongoing exploitation of the victims in some manner to generate illicit profits for the traffickers.
Human Trafficking
The use of force, fraud or coercion to bring a person into conditions of extreme exploitation. Trafficking can occur within a country or across international borders and does not have to involve movement. It is a form of modern-day slavery. The definition of human trafficking that the TVPA provides refers to severe forms of trafficking.
Forcing a person to work through threats, harm, physical abuse, restraint or legal retaliation.
Pass-Through
states must give a % of the grant they receive to local governments, combination of local units, or other specified groups or organizations
Prior Approval
written approval by the authorized official as consent prior to a budgetary or programmatic change in the award
Program Requirements
obligations of the grantee to participate in the grant program
Project Income
all income, including interest earned on subgrant funds or as a result of programs supported by grant funds; must be reported and be used to support further project activities (if allowed under Program Guidelines)
Resolution
required of all local units of government to apply for grant funds and/or incorporate those funds in the local budget
Holding someone against his or her will to pay off a debt.
T-Visa
Temporary Visa for which certified trafficking victims can apply. T-Visa holders can apply for permanent residency offer 3 years.
Trafficking Victims Protection Act 2000 (TVPA)
Federal U.S. legislation passed in 2000 that emphasizes the prevention of trafficking, protection of victims and the prosecution of traffickers.
Trafficking Victims Protection Reauthorization Act 2003 (7VPRA)
Among the major provisions of the 7VPRA, it eliminates the requirement that a victim of trafficking between the ages of 15 and 18 must cooperate with the investigation and prosecution of his or her trafficker in order to be eligible for a T-visa; and it allows for siblings of trafficked persons to apply for a T-visa.