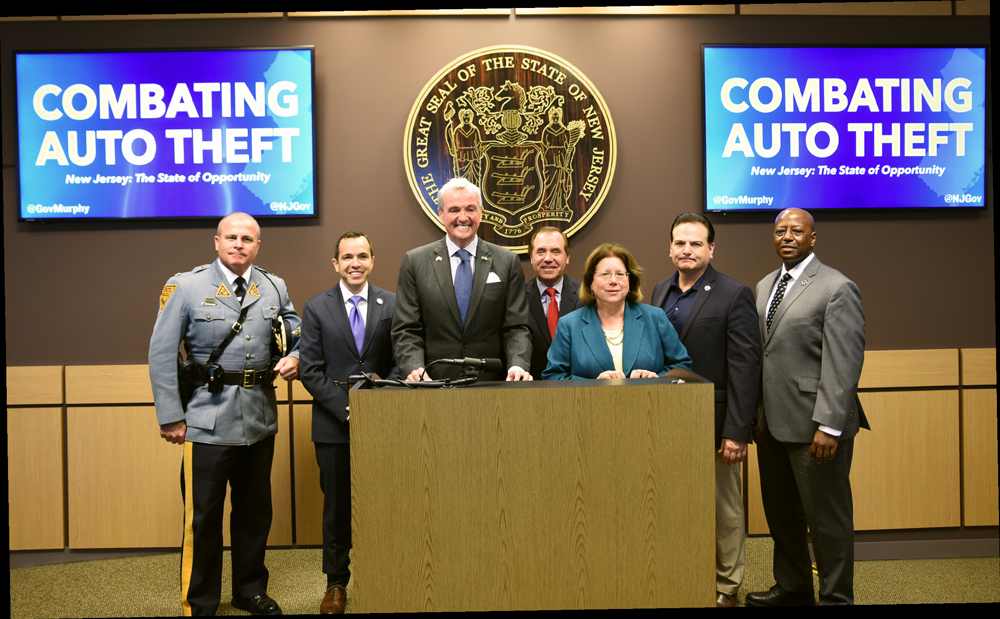 Governor Phil Murphy announces new legislation to protect New Jerseyans from auto theft.
The Office of the Attorney General has taken a comprehensive approach to combatting the rise in auto theft, which has affected not only New Jersey but the entire country in recent years. Not only is auto theft troubling in itself, but stolen vehicles are often used to commit other, often violent crimes. Due to the strenuous efforts described below, from September through December, car thefts were down 13 percent from the same four months of 2021. Yet there is still much work to do, and addressing this issue remains a top priority.
Re-launching "Lock It or Lose It" public awareness campaign. This successful statewide awareness campaign aimed at discouraging New Jerseyans from leaving their cars unlocked with the key fob inside was re-launched in 2022, as we observed that for the vast majority of the vehicles stolen, the key fob had been left in the vehicle or the vehicle was left running. The campaign originated in October 2020, when New Jersey first began to see a rise in thefts of high-end vehicles with key fobs left inside and began tracking the nexus between stolen vehicles and violent crime.
Prosecuting offenders through the Auto Theft Task Force. The Auto Theft Task Force (ATTF) led by the New Jersey Division of State Police (NJSP) was formed to address the serious spike in auto thefts. The task force works both to recover individual stolen vehicles as well as to pursue long-term investigations into car theft organizations. In addition to members of the State Police, the task force is comprised of officers on loan from various county, state, and municipal law enforcement agencies. Over the course of 2022, the task force recovered dozens of stolen vehicles with a value, in total, of millions of dollars. The task force has played a key role in prosecuting offenders to deter auto theft and secure recoveries for vehicle owners. For example, in May 2022, the task force obtained prison sentences for three defendants convicted in a Newark-based stolen auto-trafficking ring that "fenced" stolen luxury vehicles worth more than $1 million. Similar prosecutions will be bolstered by Attorney General Platkin's allocation, in 2022, of up to $125,000 in federal funds for the task force's needs, including law enforcement personnel and equipment purchases.
Investing in technology to combat violent crime. In 2022, Governor Murphy announced a $17 million investment in automated license plate recognition technology and gunshot detection equipment to reduce motor vehicle theft and gun violence in New Jersey through federal American Rescue Plan funds. The funding is being made available to law enforcement agencies to purchase and expand existing high-speed, automated camera systems to capture and store computer-readable images of license plates in a centralized database accessible to law enforcement and to utilize technology that can quickly detect gunshots and alert authorities.