For Further Information:
Media Inquiries-
Peter Aseltine
609-292-4791
Citizen Inquiries-
609-984-5828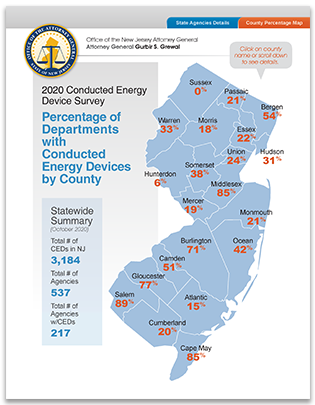 Conducted Energy Devices by County
TRENTON –Attorney General Gurbir S. Grewal today announced the results of a statewide survey of New Jersey's law enforcement agencies that revealed that 217— or 40 percent— of the 537 agencies surveyed now equip some or all of their officers with conducted energy devices (CEDs), commonly known by the brand name Taser.
The survey conducted by the Attorney General's Office includes state, county, and local law enforcement agencies, as well as college campus police, a school district police department, and bridge police. It does not include federal agencies.The 217 agencies with CEDs have a total of 3,184 CEDs.The survey represents a snapshot of CEDs currently owned by law enforcement agencies.It does not include CEDs that are in the process of being acquired by agencies.
To see the full survey results click here.
A 2016 statewide policy, the Attorney General Supplemental Policy on Conducted Energy Devices, governs the use of CEDs by law enforcement officers in New Jersey and establishes training and reporting requirements. The decision to equip officers with CEDs is left to each agency, but any agency that elects to use CEDs must comply with the Attorney General policy. The policy recognizes that, in appropriate circumstances, CEDs can be a lifesaving alternative to deadly force.
"As we re-examine our state's use of force policy, we must also continue to look for ways to equip officers with additional tools to do their jobs safely and effectively," said Attorney General Grewal. "In addition to the statewide Crisis Intervention Teams that we are currently piloting and traditional de-escalation techniques, CEDs represent one more tool our officers can add to their toolkits to resolve otherwise dangerous encounters without the use of lethal force."
The mandatory training for all officers equipped with CEDs includes a course on de-escalation techniques to address individuals who have special needs or mental health issues. It also includes a course on de-escalating confrontations with a person from a different culture or background.
Attorney General Grewal is undertaking a substantial rewrite of the state's use of force policy – the first rewrite of the policy in 20 years – incorporating feedback from public listening sessions held earlier this summer. The revised use of force policy, which is expected to be completed by the end of the year, will include an updated policy governing use of CEDs by police officers in New Jersey.
Working with law enforcement statewide and community stakeholders, Attorney General Grewal has implemented some of the most ambitious and progressive policing reforms in the country:
Mandating implicit bias training for all prosecutors, state and county detectives, and state troopers.
Creating a statewide Conviction Review Unit.
Launching a first-in-the-nation statewide officer resiliency program.
Banning chokeholds except in the most limited circumstances.
Holding regular community listening sessions in all 21 counties in New Jersey.
Overhauling the state's police training programs.
Building a statewide use-of-force database.
More information on the Excellence in Policing Initiative is found at this link:
https://www.nj.gov/oag/excellence/