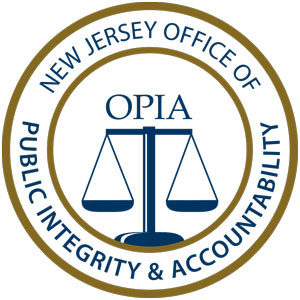 Combatting Public Corruption and Strengthening Public Confidence in Government and the Criminal Justice System in New Jersey
The Office of Public Integrity & Accountability, under the leadership of longtime federal prosecutor Thomas J. Eicher, handles all public integrity matters within the Attorney General's Office and includes a team of experienced prosecutors and detectives from the Division of Criminal Justice and the New Jersey State Police. OPIA reports directly to the Attorney General to ensure the independence of sensitive investigations.
"We must root out the corruption and misconduct that undermine faith in our public institutions. Our country and our state face significant challenges, and we won't be able to meet them if people do not trust that those in authority are working single-mindedly for the public good. We must create a culture of accountability where powerful individuals and institutions know that they must act with integrity or else face the consequences." – Attorney General Gurbir S. Grewal.
OPIA investigates and prosecutes criminal abuses of the public trust and handles other sensitive matters that implicate the public's confidence in both government and the criminal justice system, including:
Bribery and official misconduct by federal, state, or local officials;
Large scale theft or fraud involving state programs
Investigations of police use of deadly force and allegations of excessive force by law enforcement officers and agencies;
Internal affairs investigations of high level officials; and
Investigation of claims of wrongful conviction
OPIA has a statewide Corruption Tipline:1-844-OPIA-TIP (1-844-674-2847) and all information received through the tipline can remain confidential.
You may report corruption or government fraud online here
For Immediate Release: January 19, 2022 Office of The Attorney General- Andrew J. Bruck, Acting Attorney GeneralOffice of Public Integrity and Accountability- Thomas J. Eicher, Executive DirectorFor Further Information: Media Inquiries-Peter...
read more