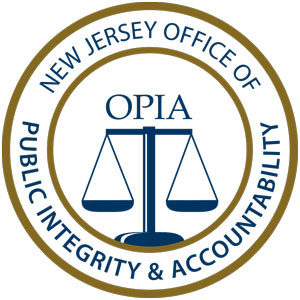 Combatting Public Corruption and Strengthening Public Confidence in Government and the Criminal Justice System in New Jersey
The Office of Public Integrity & Accountability (OPIA) is tasked with a dual mission: to investigate violations of public trust and to develop policies that would rebuild faith in both government and our criminal justice system. OPIA includes both criminal prosecutors and trained investigators, who work together to prosecute cases involving public corruption, criminal violations of civil rights laws, and illegal use of force by law enforcement officers.
OPIA also includes an Office of Policing Policy which works to strengthen policing practices across New Jersey.
 OPIA has a statewide Corruption Tipline: 1-844-OPIA-TIP (1-844-674-2847) and all information received through the Tipline can remain confidential.
For Immediate Release: September 22, 2023 Office of the Attorney GeneralOffice of Public Integrity and Accountability- Thomas J. Eicher, Executive DirectorFor Further Information: Media Inquiries-Dan ProchiloOAGpress@njoag.gov PATERSON — The Attorney General's...
read more