Understanding the Services Available to Sexual Assault Victims in New Jersey
In November 2018, Attorney General Gurbir S. Grewal issued the Attorney General Standards for Providing Services to Victims of Sexual Assault, Third Edition ("Standards"). The Standards provide a set of fourteen protocols that prioritize the needs and concerns of sexual assault victims in New Jersey. Most importantly, the Standards ensure that victims are treated with respect and understanding in the days, weeks, and months after reporting an assault. Supporting Victims of Sexual Assault Understanding the Services Available to Sexual Assault Victims in New Jersey.
The Standards focus on delivering services to victims in a timely and non-judgmental manner. This victim-centered approach includes:
ensuring the victim's safety is the top priority;
respecting the integrity, choices, and autonomy of each victim;
protecting the victim's privacy and confidential information;
identifying and responding to the obstacles some victims may face when seeking help; and
recognizing the importance of victim feedback in improving responses to sexual assault.
Under the Standards, victims may seek the assistance of a Sexual Assault Response Team, or SART, which is available to any victim 13 years or older who reports an assault within five days. Each SART consists of a confidential sexual violence advocate (CSVA), a forensic nurse examiner (FNE), and a law enforcement officer. Victims may request SART services by calling 9-1-1 or presenting at a law enforcement agency, a healthcare facility.
Sexual Assault Bill of Rights
Know Your Rights as a Survivor of Sexual Violence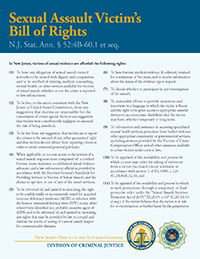 Click to Download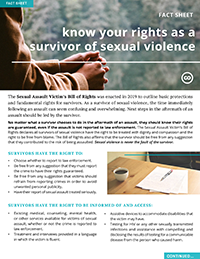 Click to Download
Please direct any concerns or feedback regarding a SART response to the County SART Coordinator. In the event you believe a concern was not adequately addressed by the County SART Coordinator, you may report the issue to the NJ Sexual Assault Nurse Examiner Program Coordinating Council, which provides oversight to the County SARTs. Reports can be made anonymously. You may contact the Statewide SART Advisory Board via email at SARTBoard@njoag.gov.