Our Mission
The mission of the Bias Crime Unit, located within the New Jersey Division of Criminal Justice, is the statewide coordination of efforts to eliminate crimes motivated by prejudice against others based on race, color, religion, sexual orientation, disability, ethnicity, gender identify or expression and national origin.
FOR EMERGENCIES CALL 9-1-1
NJ Division of Criminal Justice
Bias Crime Unit
609-984-6500
25 Market Street, PO Box 85
NJ REPORT BIAS CRIME Hotline:
Toll Free
1-800-277-BIAS (2427)
This is a tip line for individuals who are the targets of bias crimes
Report Online Using the New Jersey Bias Investigation Access System where you may file or respond to a complaint or register your organization.
FOR OFFICIAL LAW ENFORCEMENT USE ONLY:
609-273-9243 is the 24 hour on duty cell phone for Law Enforcement ONLY to report a Bias Incident.
Reward Program
(rewards up to $25,000)
Information on Identifying and understanding Bias Crime
(Brochures available in several languages are found below)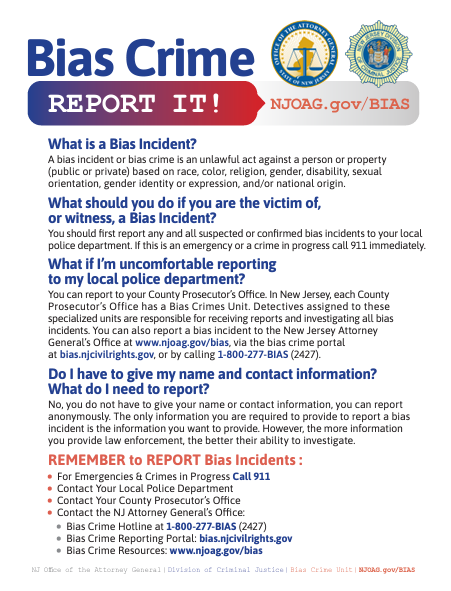 Law Enforcement Resources
County Prosecutors Office Bias Crime Officers (being updated)