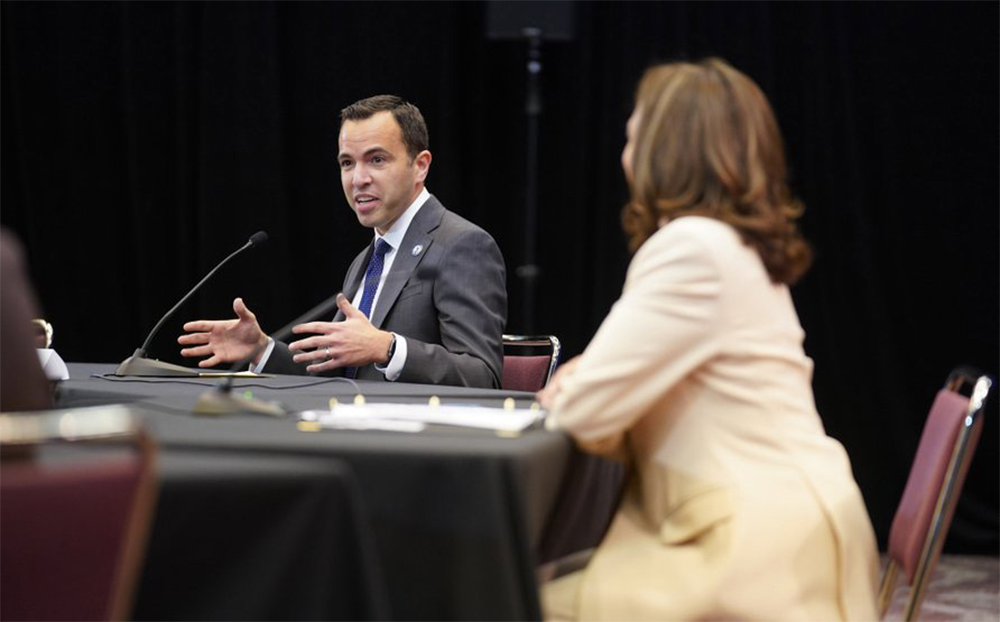 A roundtable discussion with Vice President Kamala Harris on protecting reproductive rights.
Protecting reproductive rights from interference. In the wake of the U.S. Supreme Court's decision in Dobbs v. Jackson Women's Health Organization, which overruled Roe v. Wade and jeopardized the rights of millions throughout the country, the Attorney General created a Reproductive Rights Strike Force. The task force is charged with bringing civil and criminal enforcement actions as well as developing initiatives to protect access to reproductive health care and abortion care for New Jersey residents and anyone traveling to New Jersey to access care. The Attorney General also announced a partnership between the Office of the Attorney General and the U.S. Attorney's Office for the District of New Jersey to protect reproductive rights—the first such state-federal partnership announced in the country.
Safeguarding patient privacy. In response to serious concerns about the privacy of digital patient data in the aftermath of the Supreme Court's decision in Dobbs, Attorney General Platkin led a multistate coalition to urge Apple, the worldwide technology company, to take commonsense steps to protect consumers' private reproductive health data on apps available through Apple's App Store. Providing guidance to patients, providers, and professional boards. To facilitate access to abortion care, the Division of Consumer Affairs (DCA) issued several guidance documents that reinforced and operationalized the State's commitment to reproductive freedom. The Attorney General issued a letter to State licensing boards that clarified their obligations under a law, signed by Governor Murphy in July 2022, that protects New Jersey health care practitioners from being disciplined for performing abortions or abortion-related services. DCA also issued a guidance document advising health care providers and other health care licensees on how they can best secure patient data and protect the privacy of individuals seeking abortion services. In addition, DCA issued a consumer alert warning the public about "Crisis Pregnancy Centers"—organizations that seek to prevent individuals from accessing abortion care, sometimes by providing misleading information about the safety and legality of abortion.
Expanding the pool of abortion providers. Attorney General Platkin announced $5 million in grant funding to expand the pool of abortion care providers in New Jersey. The funding, made available by the Murphy Administration, will be used to support abortion and reproductive health training and education for all practicing professionals who are eligible to provide abortion care in New Jersey as well as for students seeking licensure as practicing professionals whose scope of practice will include abortion care.