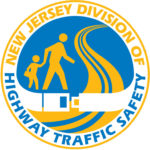 The Division of Highway Traffic Safety (HTS) works to prevent motor vehicle-related crashes and the resulting property damage, injuries, and fatalities on New Jersey's roadways. HTS is responsible for administering the State & Community Highway Safety Program, which annually distributes approximately $20 million in federal funding to develop and implement a statewide highway safety plan. The Director of HTS also serves as the Governor's representative to the Governor's Highway Safety Association and The National Highway Traffic Safety Administration.
Upcoming Events
The Year End Impaired Driving crackdown "Drive Sober or Get Pulled Over" is scheduled for December 3, 2021-January 1, 2022.
The Distracted Driving crackdown "UDrive. UText. UPay." is scheduled for April 1-30, 2022 and the seat belt enforcement mobilization "Click It or Ticket" is scheduled for May 23-June 5, 2022.
For Immediate Release: December 6, 2021 Office of The Attorney General- Andrew J. Bruck, Acting Attorney GeneralDivision of Highway Traffic Safety- Eric Heitmann., DirectorFor Further Information: Media Inquiries-Lisa CoryellOAGpress@njoag.govTRENTON –Acting Attorney...
read more