Initiative Includes New Statewide Policies Regarding Officer-Involved Shootings, Internal Affairs Investigations, Disclosure of Exculpatory Evidence, and Other Policing Issues
For Further Information:
Media Inquiries-
Peter Aseltine
609-292-4791
Citizen Inquiries-
609-984-5828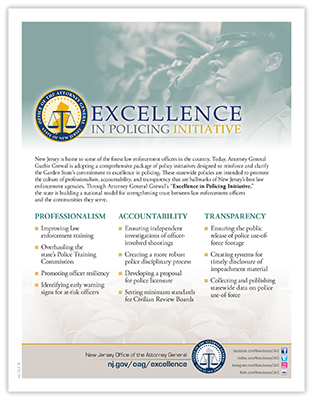 Click to Download
www.nj.gov/oag/excellence
TRENTON—Attorney General Gurbir S. Grewal today announced a comprehensive package of statewide law enforcement policies designed to ensure New Jersey remains a national leader on policing issues. The policies, known collectively as the "Excellence in Policing" initiative, are intended to enhance public safety and public trust by promoting professionalism, accountability, and transparency among New Jersey's 36,000 law enforcement officers.
To achieve these policy objectives, Attorney General Grewal today issued five new statewide law enforcement directives ("AG Directives") and three letters to law enforcement leaders. The policies address, among other things:
Use-of-Force. Ensuring independent investigations of use-of-force incidents, police-involved shootings, and in-custody deaths by enhancing statewide policies, and launching a six-town pilot program to test the state's new online use-of-force portal;
Internal Affairs. Setting new rules to ensure objective and timely internal affairs investigations by police departments, with robust oversight by county prosecutors and new rules for coordination with Civilian Review Boards;
Disclosure of Exculpatory Evidence. Requiring that all County Prosecutors establish policies and procedures for timely disclosure of Brady and Giglio evidence;
Training & Licensing. Reinvigorating the Police Training Commission (PTC) and directing it to develop proposals for revamped training protocols and a police licensure system;
Identifying At-Risk Officers. Transitioning from "early warning systems" to more comprehensive, evidence-based "early intervention systems" that incorporate officer resiliency initiatives;
Municipal Prosecutors. Improving the quality of justice in the state's municipal courts by enhancing oversight of municipal prosecutors; and
OPIA/Office of Policing Policy. Formally codifying the Office of Public Integrity & Accountability (OPIA), and establishing within OPIA an "Office of Policing Policy" to oversee implementation of the Excellence in Policing initiative and develop additional resources, tools, and training to assist the State's law enforcement agencies and officers.
"New Jersey has some of the finest law enforcement officers in the country, and our new initiative will help the Garden State maintain its position as a national model for policing in the 21st century," said Attorney General Grewal. "We're promoting the culture of professionalism, accountability, and transparency that are hallmarks of New Jersey's best law enforcement agencies, and we're showing the rest of the country how we can build police-community trust while also protecting public safety. Our state's 36,000 law enforcement officers deserve nothing less."
"These policies will ensure that our police officers have the training, support, and supervision they need to meet the highest standards of their profession," said OPIA Executive Director Thomas Eicher, which is spearheading many of the reforms. "The vast majority of our officers serve with honor and integrity, and they deserve a system that highlights their good work and roots out those who dishonor the profession."
"The law enforcement community is comprised of men and women who serve as prosecutors, undercover officers, detectives, uniformed boots on the ground, just to name a few, but one common denominator among these individuals who followed the call of duty is their unwavering dedication to providing the citizens of New Jersey the most professional and compassionate service in the country," said Colonel Patrick Callahan of the New Jersey State Police. "The Excellence in Policing Initiative will further aid New Jersey law enforcement with maintaining this commitment by establishing cutting-edge training protocols and early intervention systems, which will ensure that New Jersey continues to be a national model for law enforcement."
"New Jersey has a strong law enforcement community with many outstanding prosecutors and police officers," said Director Veronica Allende of the Division of Criminal Justice. "These new policy initiatives build on that strength with statewide reforms that will further promote trust in our police and faith in our justice system. We will work closely with our law enforcement partners to ensure that we achieve the critical goals of the Excellence in Policing initiative."
"The Paterson Police Department welcomes the opportunity to participate in the pilot program to develop and test the Attorney General's new police use-of-force portal and electronic reporting system," said Paterson Police Chief Troy Oswald. "We share the Attorney General's commitment to accountability and transparency, and believe this system will result in greater uniformity in reporting and more meaningful data on use-of-force incidents. The trust of the community we serve is vital to our effectiveness. This new electronic reporting system—like the other initiatives being announced—will help us strengthen that trust."
The Attorney General's Office engaged a wide range of stakeholders throughout the policy development process, including community advocates and law enforcement leaders.
Eight "Excellence in Policing" Policy Documents
Attorney General Grewal today issued the following letters and directives to law enforcement to implement the eight new policy initiatives:
The letters and directives are posted at www.nj.gov/oag/excellence/.
AG Directive 2019-4: Independent Prosecutor Directive. This directive comprehensively addresses the process for conducting independent investigations of use-of-force and death-in-custody incidents, thereby consolidating three existing directives—AG Directive 2006-5, its 2015 supplement, and AG Directive 2018-1—alongside new procedures for compliance with the new independent prosecutor bill signed by Governor Murphy in January 2019. The new directive is organized around a "ten-step process," from the initial notifications of the incident to the announcement of criminal charges and any referral for administrative review. As part of this process, the directive formally transfers investigative and prosecutorial responsibility for fatal cases from the Division of Criminal Justice to OPIA. Additionally, this directive expands the scope of the disclosure policies established in AG Directive 2018-1, creating a presumption in favor of publicly releasing any video footage that documents a serious use-of-force or death-in-custody incident covered by the new directive. The new disclosure rules include the release of any third-party footage captured by a surveillance camera or a civilian's smartphone and later obtained by law enforcement during the investigation.
AG Directive 2019-5: Internal Affairs Directive. This initiative involves two documents: an AG Directive summarizing the policy changes being made, and a revised version of Internal Affairs Policy & Procedures (IAPP), which governs all Internal Affairs investigations for state, county, and local law enforcement agencies in New Jersey. The most significant revisions to IAPP are summarized on pages 2-5 of the directive. Among other changes, the revised IAPP:
Strengthens procedures for accepting reports of alleged officer misconduct, establishing a standardized citizen complaint form that must be available in multiple languages in all police department offices and on all police department websites.
Establishes timelines to encourage prompt resolution of Internal Affairs investigations, stating that most investigations should take no more than 45 days, and requiring notification to the town's chief of police for any inquiries that remain unresolved 45 days after receiving the complaint. In the rare cases when an investigation remains open 180 days after receiving the complaint, the department must notify the County Prosecutor, who may take appropriate steps to ensure prompt resolution of the matter.
Requires County Prosecutors to exercise greater oversight of the Internal Affairs functions of police departments, including by investigating troubling patterns in specific agencies and conducting random reviews of the Internal Affairs function in all agencies within their jurisdiction.
Allows police departments to share completed Internal Affairs investigation files with a Civilian Review Board, provided that the Board establishes certain minimum procedural safeguards to protect the confidentiality of the records and the integrity of the Internal Affairs process.
Clarifies police departments' public reporting requirements, including requirements to post online (a) an annual report summarizing the types of Internal Affairs complaints received and the disposition of those complaints, and (b) periodic reports, issued at least once a year, that provide a synopsis of all Internal Affairs complaints that resulted in a fine or a suspension of 10 days or more.
AG Directive 2019-6: Statewide Brady-Giglio Directive. This directive creates a statewide policy governing the disclosure of exculpatory and impeachment evidence in criminal cases. It requires each County Prosecutor's Office to adopt its own Brady-Giglio policy, in line with the directive, which must contain three essential features: (1) prosecutors' responsibilities for disclosing Brady-Giglio material; (2) procedures for gathering Brady-Giglio material from both civilian witnesses and investigative employees; and (3) procedures for reviewing and disclosing Brady-Giglio material. Importantly, the directive specifies various types of findings and other information that could require disclosure, including sustained findings of untruthfulness or lack of candor.
AG Directive 2019-7: Municipal Prosecutor Directive. This directive expands the types of information that municipal prosecutors must disclose to the Division of Criminal Justice (DCJ) and county prosecutors, and creates new oversight by DCJ's Prosecutors Supervision & Training Bureau. Stakeholders from across New Jersey, including municipal prosecutors, have been meeting to explore how prosecutors can better ensure consistency and improve the quality of justice in the state's municipal courts. This directive will help DCJ gather additional information needed to develop further recommendations for improving oversight of municipal prosecutors.
AG Directive 2019-8: OPIA Directive. This directive formally codifies the Office of Public Integrity & Accountability, which was announced by Attorney General Grewal in September 2018 to strengthen public trust in public institutions and will now be a permanent part of the Attorney General's Office. The directive establishes that OPIA consists of the following divisions:
Corruption Bureau. The Corruption Bureau serves as the lead office within the Department of Law & Public Safety for the investigation and prosecution of state criminal violations involving corruption and abuse of public trust.
Integrity Bureau. The Integrity Bureau—which includes the Conviction Review Unit and Cold Case Network created earlier this year by Attorney General Grewal—oversees matters related to the integrity of the criminal justice system. It handles cases involving fatal police use-of-force or in-custody deaths as mandated by the Independent Prosecutor Directive.
Special Investigations Bureau. The Special Investigations Bureau investigates and prosecutes state criminal violations involving civil rights violations, including official misconduct involving excessive use of force by police, but excluding cases covered by the Independent Prosecutor Directive. It also conducts all internal affairs investigations involving law enforcement personnel of the Department of Law & Public Safety.
Office of Policing Policy. The new Office of Policing Policy will oversee implementation of the Excellence in Policing initiatives and develop additional reforms in the future.
In conjunction with the directive, the Attorney General announced that Assistant Attorney General Joseph Walsh, who currently serves as Counsel to the Attorney General, will become the first Director of OPIA's new Office of Policing Policy. AAG Walsh recently returned to the Office of the Attorney General after spending six months auditing the Internal Affairs function of the Elizabeth Police Department. Before joining OAG, AAG Walsh served as a prosecutor in the Division of Criminal Justice, the Camden County Prosecutor's Office, and the Burlington County Prosecutor's Office. In addition, AAG Walsh spent over 20 years as a police officer in Moorestown, New Jersey, where he was assigned to both the Patrol Division and the Detective Bureau, ultimately rising to the rank of Sergeant.
Letter Regarding Use-of-Force Portal. This letter recognizes the six police department—in Bridgeton, Dover, Linden, Millville, Paterson, and South Brunswick—that have volunteered to participate in a pilot program for the Use-of-Force Portal. The letter updates those departments on the progress OPIA has made over the past year in developing the portal, including its data collection and reporting system. A copy of the Portal's use-of-force reporting form is included with the letter, allowing the public to see for the first time the scope of the information that the database will capture once it goes live.
Letter to Police Training Commission. This letter asks the PTC, in collaboration with OPIA, to prepare two reports by June 1, 2020 that will: (1) evaluate whether to adopt a professional licensure regime for New Jersey police officers; and (2) assess New Jersey's current practices for training police officers, as compared to national best practices, and make recommendations regarding any necessary changes that will make New Jersey a national model for police training. The letter asks that that the PTC consult with all relevant law enforcement and community stakeholders in developing these proposals. In the letter, Attorney General Grewal also expresses his commitment to seek enhanced funding for the PTC so that it has the resources necessary to fulfill the growing number of responsibilities it handles pursuant to its statutory mandate.
Letter Regarding Early Warning Systems. The purpose of this letter is to notify law enforcement agencies that, over the next year, the state intends to transition from "early warning systems" to more accurate, evidence-based "early intervention systems" that help law enforcement agencies identify at-risk officers with greater precision and develop comprehensive corrective plans. This "early intervention system" will incorporate not just traditional early warning system indicators, but also tools developed as part of New Jersey's first-in-the-nation statewide Resiliency Program for Law Enforcement established in August by AG Directive 2019-1. The letter explains that OPIA is developing this new system to be rolled out statewide in 2020.
###